Bangalore to Gandikota and Belum Caves – A mad day trip!
One fine Friday evening, the geeky bespectacled corporate couple decided – "Kuch toofani karte hai" and set off on an ambitious day trip. This was the day we drove over 650 km in total, from Bangalore to Gandikota and Belum caves, and back – all in one day! After reading many blogs, we decided to start at 4 am on Saturday morning to avoid the infamous Bangalore traffic. But this is where it gets crazy! We woke up and found it was 7 am. Meanwhile, our maid arrived too so there was no way that we could start before 8 in the morning, yet, as you may have guessed, we decided to go, and return on the same day.
That's Chayan and me before we entered Belum Caves. After this, we didn't remain "selfie-genic"!
The Drive from Bangalore to Belum Caves
We took the Bangalore–Hyderabad national highway which is a phenomenal road to drive in India. As usual, we stopped at a Kamat restaurant to have our weekend-wanderlust-special South Indian breakfast.
The scenic beauty around was different from what we see on our usual trips to the Western Ghats (of course because it is NOT on the western ghats for a change). The mountains looked different. The forests were less green. This was the kind of dry rugged beauty that you can see on the plateaus of India.
The mountains we see on this route are mostly granite mountains. It is also one of the main sources of income of the villages near the area. As we approached towards our first destination we saw blocks of granite stacked on top of each other in the shape of small huts on both sides of the road. Not all of these go into production, in fact, a lot of rejected blocks are also scattered on the roadside, but somehow they don't look like clutter. They seemed to blend beautifully with the natural landscape.
The only problematic piece was the last bit which was a two-way highway. It's not a problem during the day but we wondered what it would be at night when we returned, as there were no street-lamps to be seen.
Our first stop – Belum Caves
Google once again proved to be our loyal navigator and we reached our first destination by noon. A splendid attraction by itself, the pristine white statue of Gautam Buddha outside is hard to miss and is a landmark to our first destination – Belum Caves.
Did you know? Belum Caves is a natural cave and estimated to be millions of years old! It was known to local villagers for ages, as suggested by numerous man-made structures inside but was first explored by H.D GeBeauyer, a German caver and his team in 1982- 1984.
(Source: Belum Caves authority).
It's a great place to tickle your curiosity bone – imagine that this place has witnessed human evolution! It is surprising at how well-maintained the caves are with the interiors well-lit and well-ventilated for the safety of tourists. You have to enter the caves yourself to experience the thrill of cave exploration but I tried to capture our first cave exploration in the photo –story below. Each of these spots has some Sanskrit name which I don't remember, so I named them on my own.
The great bath-tub
The Squeeze-past challenge
The Blue Lagoon
The Watch-ya-head🙆
Last bummer – The Upside-Down 👇👀 
Okay, before I raise your expectations sky-high, remember this is India. Even the lesser-known places have too many people (including us) who throng to it on weekends. 😜The strategically taken photographs may give you the impression of an eerie experience. Reality is that the place was crowded. I am not sulking but just keeping it honest. If you want the real Indiana Jones type experience, plan your visit on the weekdays when there are fewer people (I guess).
Entry fee to Belum Caves – Rs.65 per head
Next Stop – Gandikota
Our next stop was Gandikota, just 60km away. We were sweating profusely when we came out of the caves. Andhra Pradesh's heat was unbearable because our weather-immunity-system has been crashed by the all-year-spring of Bangalore. There was just one snacks shop from where we got what seemed an elixir at the moment, cold drinks!
On our way to Gandikota, there came a part where the road was being reconstructed. The pebbles had been strewn all over, but the road-roller was nowhere around. So basically all the cars had to drive over the pebbles consequently doing half the job of road construction. Ah, things our little Ford Figo goes through for our wanderlust!
From a faraway distance, it seemed as if the entire road was blocked by a giant gate, something we see only in a period drama. We knew what we were looking at – the Gandikota Fort, one of the best forts in India!
Gandikota is a village named after the Gandikota fort, a 14th century fort that was established during the powerful Pemmasani Dyanasty. The fort in turn, got it's name from the peculiar landscape formed by the Pennar river cutting through the Erramala Hills forming a giant gorge. 
The word Gandikota literally translates into the "Gorge Fort" ("Gandi" in Telugu means gorge and "Kota" means fort). So, it's basically a fortified village that you see when you enter the gates – the ruins of a wealthy empire. 
Things to do at Gandikota
Explore the Gandikota fort and immerse yourself in the centuries-old history. Try not to notice the inscriptions made by people all over the walls. I know its horrible right?
Exhausted but excited!
The pigeon house also called the Charminar – no, not the famous one you have heard about, that's in Hyderabad
The prison which is not infested by bats and offers a beautiful panoramic view from the window
Two temples dedicated to Madhava and Ranganatha –  examples of the beautiful Hoysala architecture that has stood the test of time.
The  Jama Masjid  – mosque at Gandikota
Read Best Forts in the world chosen by 19 travel experts.
Once you are done with history and architecture, head to the natural wonder you came all the way to see – India's own Grand Canyon. Depending on what time you reach, this is an excellent spot to see the sunset or sunrise. We had to leave before sunset, but what we could see was the river in its full glory thanks to the monsoon season.
Most of the pictures you may see on the internet would have green marshland at the gorge because the river dries up most of the year. In the monsoon, however, the river is at its brimful best and the view is stunning. The place is so large and so profound that you wouldn't even mind the crowd here. There is no need for disclaimer or reality check, this place is truly a natural wonder that you ought to feast your eyes upon.
If you are not too keen on returning home the same day itself, camping is a great option. Imagine camping at this location, looking at the clear star-studded sky at night and waking up to the golden sunrise. Organized camping facility is available there, but you can also bring your own tent and plant it there for a night.
Buy your own tent at the best price on Amazon!
If you have the time you can also take part in the various adventure sports organized at the riverside – kayaking in the river, rock climbing, zip-lining, etc.
Wear comfortable shoes for hiking and rock climbing. Check out our guide to buying the best travel shoes in India.
Entry fee to Gandikota – ZERO!
Our drive back from Gandikota to Bangalore – Route round-up
We spent about 2 hours at Gandikota exploring the ruins and the canyon. We were smitten by its beauty and wanted to spend more time, but we knew that the night ahead was "dark and full of terrors". So we started at 5 pm from Gandikota and followed the route shown in red as shown below.
There was a long stretch of two-way highway without any streetlights. The cars on high-beam coming from the opposite side can be blinding and you need to follow the light signaling rules to the T, but you can only hope that others do the same. We remember stalking one particular car ahead of us which was negotiating the route pretty well, until the point where our big brother (as we named the stranger) went straight on his way while Google sir told us to turn left into the dark woods.
Our little horror story
For 10 km there was not a single car to be seen en-route. We didn't have the guts to stop the car and recheck our navigation either. All we could see was that this narrow desolate road would continue till 20 km more. This is when we found another car coming in the opposite direction. The driver waved at us apparently asking us to stop. We were a little terrified at first but banked upon our faith in humanity and took a reverse. Turns out the poor fellow was asking us if we knew where this road led to, and we said the little we knew on the ongoing trip. He assured us that we are on the right track and this road connects to Bangalore. All's well – situations like this re-affirm our perception of safety in the southern part of India time and again.
Pin It!!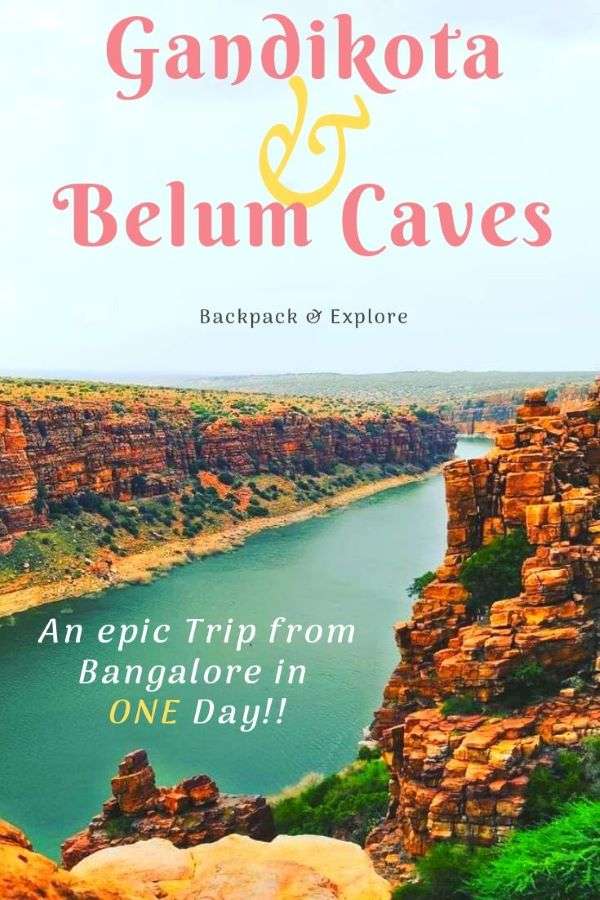 If you plan to camp overnight at Gandikota don't forget to stop at the temple of
Lepakshi
on your way back to Bangalore. If you are returning on the same day, the road from Lepakshi is a well-illuminated and partitioned national highway all the way to Bangalore. This is indeed the most popular route taken even if you want to do the trip on reverse – Bangalore –to-Gandikota-Belum and back. So here we are, we reached home exhausted but satisfied, and most importantly safe.
Our Verdict
I don't want to scare you with my stories here, but I just want to assure you that it is safe. You will find several accounts of this day-trip on the internet which will confirm this. With our full-time jobs, time becomes a constraint and we want to have at least one good night's sleep at home on weekends when we can wake up late, do laundry and have some domestic time. However, the place turned out way more spectacular than we had imagined, and I totally recommend spending 1 night at Gandikota.
Two-day itinerary for Bangalore to Gandikota and Belum Caves
Here is the plan I recommend for a 2-day weekend trip from Bangalore:
Saturday – Reach Belum caves first. Open timings 10 am – 5 pm.
Then reach Gandikota, do all the adventure activities and watch the sunset.
Sunday- Wake up early to greet the breaking dawn and then head to Lepakshi after breakfast. Explore the architectural wonder of the thousand-year-old Lepakshi temple, have a nice lunch there and head home.
You will easily reach home by 5 pm so that you can relax before the Monday-morning kicks off! You can take this trip from Hyderabad or Chennai too on a weekend. If you are from Hyderabad you can include Kurnool fort also on your itinerary.
Places to stay and eat in Gandikota and Belum Caves
Now comes the logistics part, and this is one department that this place is not very strong at. The only place to stay is Haritha Resorts. It is owned and operated by AP Tourism and located close to the Gandikota Fort. The resort is designed to look like a fort. It has standard AC rooms and dormitory arrangement. Due to high demand on weekends and holidays, the booking needs to be done at least 3 weeks in advance at any time of the year. If you are on a vacation, choose weekdays for a stay in this resort. They serve simple but good quality vegetarian food and has very neatly kept rooms with all modern amenities. The tariff of AC rooms is less than Rs. 2000 so keep your expectations realistic. The highlight of the stay would be spending the evening on the rooftop. Food is another department where Gandikota and Belum caves are likely to disappoint you. There is hardly any place to have a wholesome lunch except in the Haritha Resort itself. There is a Haritha hotel at Belum Caves which served refreshments, but not an option for a proper meal. So if you decide to camp here you have to bring some food along or just live on snacks throughout the day. That's not such a bad idea for one day.
Like it? Pin it!
Distance from Major cities in South India
Hyderabad  to Gandikota distance: 388km
Chennai to Gandikota distance: 381km
Bangalore to Gandikota distance: 280km
How did you like this trip? Mail me if you have any questions.
Check out some of our favorite weekend trips from Bangalore –