12 Incredibly Indian Experiences that will leave you spellbound
In this post our guest writer Akanksha explores the best things to do in India. 
Travelers from around the world, over the centuries, have been fascinated with India and each has returned home with cherished experiences. The unique land of 'unity in diversity' is not just a country but rather a collection of unforgettable experiences. Right from its heritage, history, culture, festivals, things to do, places to visit, accommodation, food, and transport, each aspect of your holiday in India is fascinating.

From the millions of incredible delights, here is a list of 12 unique experiences in India that you must include in your holiday.
Witness the worship of a river with the magnificent Ganga Aarti
Image Source – videoblocks.com
In India, Rivers are believed to be Goddesses who nurture millions of souls with their water, wash away sins and also grant salvation. In fact, the Rivers Ganga and Yamuna are granted the status of humans. When such is the reverence for a river, traditions, rituals, and worship is a part of the devotion. 
The Ganga Aarti is an ethereal presentation held on the banks of the river. Huge brass lamps are raised in devotion accompanied by hymns, music, incense, flowers, etc. Ganga Aarti in Varanasi is truly beyond the capacity of words. Attending the evening aarti is one of the most cherished experiences of India. Haridwar, Rishikesh, and Allahabad also worship River Ganga while other holy rivers are worshipped in their own way.
Book a Tour with Ganga Arti in Varanasi
Here
Camp at the salt desert of the Rann of Kutch
The salt marshland of India, the Rann of Kutch is a beauty that words fall short for. The feeling of the eerie white sands as far as the eye can see is a rare experience. When the full moon shines on the white landscape the sight is ethereal. Even the starlit skies are amazing as the whole of the Milky Way shines through.
India invited visitors to this unique topography and when you visit it on the occasion of the Rann Utsav, you would never like to leave. The barren landscape bursts into the myriad of colors from November to February. The festival is a carnival-like atmosphere where tents, vibrant costumes, dance, music, handicrafts exhibition, safaris and more. Escape the cities, and experience how it is to live away from civilization.
Experience the life of royalty at heritage hotels of India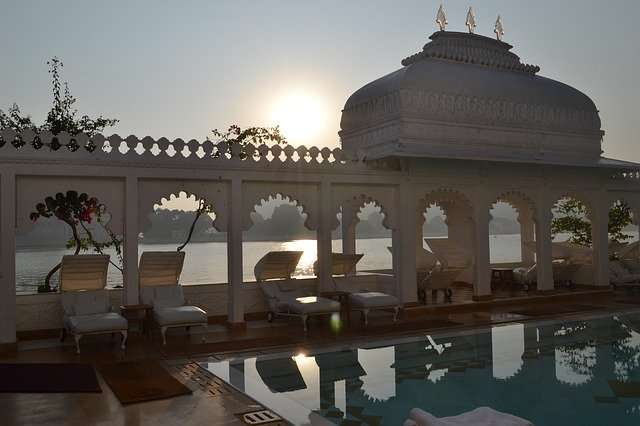 Image source: Pixabay
While you can enjoy royal pleasures anywhere at a cost, India gives the opportunity to experience the life of royalty at their own homes. The royal families of India have opened up their ancestral homes to welcome guests. Their majestic homes in their pristine glory are open for enjoying a memorable stay.
Book yourself the grandest room, enjoy opulent dinners, pamper yourself with their treatments and maybe you can get a chance to talk to them and hear their stories.
Check out this Western India travel guide for planning your trip to this region.
Marvel at the Architectural Wonder- Taj Mahal
Image Source- discovertheorient
The Taj Mahal is one of its kind and to be able to view it is an experience you do not take lightly. Listed as one of the Wonders of the World this UNESCO World heritage site is white-marble mausoleum built by Mughal Emperor Shah Jahan for his beloved wife. The magnificence of the structure fills you with awe.
Witnessing the epitome of love with your love during the sunrise, sunset or the moonlight is nothing less than a dream come true. The feeling is surreal and definitely one of the most romantic memories of your life. Read tips for visiting Taj Mahal.
Book a full day tour from Delhi to Agra including trip to Taj Mahal
Here
Cruise through backwaters of Kerala
Kerala in India is blessed by nature and the backwaters are one of the unique features. Formed by the rivers, lakes, sea and other water bodies merging together to become a network, the ecology is heavenly. A houseboat cruise on the backwaters is one of the most beautiful experiences in India. Now you would wonder, why it is different from luxury cruises. The difference is the houseboats are still built traditionally from natural products and the views you enjoy are simply unrivaled.
Related: Trip to Bekal, an offbeat location in Kerala to enjoy backwaters, beaches, and medieval forts
Learn about ancient healing with Ayurveda
While the world has a number of holistic sciences, Ayurveda dates back to 5000 years, to the Vedic Era and this science is till date a very relevant key to health and wellness. With the use of herbs, oils, and therapies, Ayurveda cures ailments, lets your revitalize your senses, manage stress or simply experience a rare kind of bliss that envelops your body, mind, and soul.
Images Source – drvaidyas.com
Practice yoga where it originated
Images Source- wztext.com
Yoga is another one of the holistic sciences of ancient India that focuses on bring the body, mind, and soul together to attain higher levels of consciousness. Learn about the art at the place where Yoga is said to have originated, in the Himalayas along the holy river Ganga at the divinely blessed Rishikesh.
The International Yoga Festival, a week-long event is the best introduction to the practice of yoga. Attend the globally recognized event and learn the secrets to inculcate in your life to develop as a spiritual being.
Trek on a frozen river in Ladakh
Image Source- askideas.com
Sounds incredible but very much true is the amazing opportunity to trek on the frozen Zanskar River. The Chadar trek is a thrilling experience. Where can else can you boast of having walked on water? In the peak of winters, the Zanskar River in Ladakh' the cold desert' also known as' roof the world' freezes over looking like a solid ice sheet. The challenge of walking over the river is truly a rush of adrenalin and an experience very few can actually boast about.
Check out the best places to visit in North India.
Attend the largest religious gathering of humans at Kumbh Mela
Image Source- cdn.dnaindia.com
Held once in 12 years at four holy sites, the Kumbh Mela, by its sheer numbers of pilgrims is the largest human gathering in the world. The estimated attendance at the festival passes a 100-million mark which is more than many populations of the countries.
Pilgrims in their devotion, bathe in the sacred river waters at the four places (1. Haridwar- River Ganga, 2. Ujjain- River Kshipra, 3. Allahabad- Sangam-the confluence of River Ganga, Yamuna, and Saraswati, 4. Nasik- River Godavari).
To have attended the festival is an aid to grant salvation from the circle of life and death. The experience is truly divine. 
Also read about Durga Puja in Bengal, this year's nomination for UNESCO cultural heritage.
Celebrate 17 New Year Days in a Year

India unifies its incredible diversity and one of the amazing aspects is its celebration. On your holiday in India, you can celebrate not one but 17 New Year Days. Each community has its own start of the year, each with its own colorful festivities.
Get ready to enjoy a myriad of rituals, traditions, vibrant clothes, families coming together and many more.
Flowers that bloom once in 12 years
Image Source- theindia.co.in
A rare spectacle of nature, the bloom of Neelakurinji flowers happened once in 12 years. The valleys of Annamalai hills after the monsoon witness the bloom of these rare flowers. It is found in mainly three places – Kodaikanal, Eravikulam National Park, and Kolukkumalai – the highest tea estate in the world. The view is surreal and so is it the experience to have seen such a rare beauty.
The rare occurrences do not end here. The valley of flowers in Uttarakhand and another one of the same name in Yumthang Valley are also the hosts to bloom of such flowers. These are some amazing monsoon destinations in India. The Uttarakhand valley is blessed with more than 400 varieties of mountain flowers that happen every year in the monsoon (July –September). While the valley in North-Eastern India witnesses such an event at the start of summer.
Read more about our trip to Munnar in Monsoon
Savor rich cuisines
Image Source- ourtravellifestyle.com
Gastronomy in India is an unforgettable experience. Though one country, each region and every place have its own style of cooking, specialties, and dishes. The use of rich spices in the food makes it inimitable. The wealth of species have lured travelers since centuries and till date, the flavors of spices in food give you major food goals.
Apart from 3-course meals, there are a mouthwatering variety of snacks, street food, desserts, drinks, special feasts and so much more. The miscellany of choices extends to food preferences – vegetarians, non-vegetarian, vegan or any other preferences. Sample an Onam Sadya thali with its 64 dishes or a 56-dishes Maharaja thali, a wedding feast or Ayurveda-based meals, Indian food has a way to tempt your taste buds and provide experiences that you cherish forever.
These were Akansha's favorites. How many of these incredibly Indian experiences have you cherished so far? What is your favorite experience in India, within or outside the list? Write to us in comments. We would love to read.
Check out the detailed post on how to apply for India Visa. Read more experiences of exploring India.
You can also read about Top 51 Places to visit in India by Akansha on her website.
The author in her own words
Akansha Negi frequently writes at India Travel Blog. She shares her passion for travel and love for various Indian destinations. If you are planning your vacations in India, you can browse through her write-ups.

Like the article? Pin this and share with others-
If you like this, share your friends and subscribe to our blog for your weekly dose of wanderlust!
 You can also follow our journey on Facebook , Instagram and Youtube
Disclaimer – All pictures in the article have been sourced by Akansha from external sites that have been credited. In the case of copyright claims please reach out to us and we will immediately remove the concerned asset.